COLOP Printer S220/W Word Stamp
Self-inking word and phrase stamp. Features 12 commonly used words.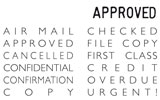 Stock dial-a-phrase stamp. 4mm word stamp with adjustable word wheel. Simply turn the wheel to select your required word. Supplied with a black pad as standard.
Ink pads are easily replaced. Each ink pad will give thousands of crisp, clear impressions. Additional coloured ink pads can be bought separately.
Words featured on the stamp: AIRMAIL, APPROVED, CANCELLED, CONFIDENTIAL, CONFIRMATION, COPY, DRAFT, FILE COPY, FIRST CLASS, ORIGINAL, SHRED, URGENT!
Ink pads: E/200
COLOP Printer phrase stamps are made from lightweight robust plastic, making them comfortable to use and able to withstand regular use.
TUTORIALS
Click the links below to see how to get the most out of your stamp.
We found other products you might like!