Posted on 9th May 2018 by Get Set Stamps.
UV Inks - a new tool to train Emergency Services about avoiding the risk of toxic chemicals and liquids.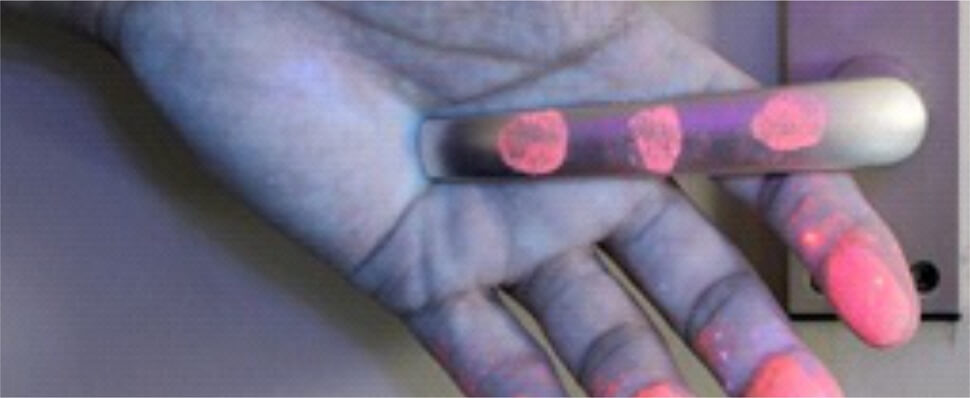 The recent media coverage of the alleged Russian spy and his daughter poisoned by a nerve agent in the UK has highlighted how vulnerable we are as a nation to such threats. With this in mind there are a number of ways our emergency services, and also business in general could benefit from more staff awareness of the unintentional spread of toxic substances.
Our partners in Germany have recently had their NORIS 110UV ink approved for use in several fire stations and are using it to illustrate the risks of "wet" contamination. This ink shines brightly under UV light, but is invisible in sunlight. The ink has been mentioned in German Fire Service magazines as a valuable aid for demonstrating contamination.
How does this work?
NORIS 110UV ink can be used to dampen a rag, which is left to lie in the path of the fire fighter. When the fire fighter removes the rag he is "contaminated" with the ink. He/she then spreads the ink or "contamination" to fire equipment and any colleagues they come into contact with. After the training task is completed the unsuspecting candidate is inspected with a UV lamp. Surprise and alarm follow when not only the candidate lights up but also all he has come into contact with. This visually aids the spreading of contamination concept very effectively.
NORIS 110UV ink is dermatologically tested according to international guidelines of ICDRG, classified as a non‐dangerous good and has a "No Hazards" classification according to CLP Regulations. It is well suited to aid in contamination demonstrations without harming the user.
Contamination awareness.
With this in mind, and due to the fact it is safe to use on skin, we believe this product would not only be perfect for training the emergency services on the contamination of bio hazards - but also for use in schools and businesses to train children or staff on the ease of spreading germs.
We offer a UV detection torch which, when coupled with this ink would make a simple, easy to use and effective training aid.
Buy your UV ink and torch online now!