FAQ - Frequently asked questions
How do I order a stamp from you?
Our online design tool is easy to use and the best way to create your own custom stamps. Simply select the shape you need, tell us a little about the stamp you require; size or number of lines, and our site will pick out the best stamps to suit. Using the design tool, you can select fonts, sizes and styles, insert your own logos and images and also add borders and grid lines. The on screen preview updates in real time so you can see exactly what your finished impression will look like, you can also view and print a scaled PDF preview so you can see what your impression will look like on paper.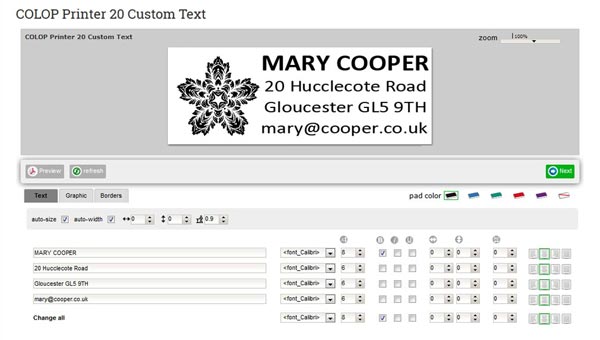 Which fonts offers the design tool?
Our design tool offers mostly Google Fonts to create custom stamps:

Do I need to create an account or register to order from you?
No, you do not need to open an account or register with us. However, opening an account will speed up the checkout process for future orders as your details will be automatically populated when you login.
What's the difference between Rubber, Self-inking and Pre-inked stamps?
Rubber stamp: Traditional hand stamp for use with a separate ink pad.
Self-inking stamp: Comes supplied with built in ink pad. The pad will give thousands of clear impressions and can be easily replaced once it runs dry.
Pre-inked stamp: Made from flash technology, ink migrates through the foam textplate, keeping your stamp inked up for thousands of impressions. Once the ink runs dry, more can be added to the stamp. This is by far the fastest way to produce a stamp!
Do you offer additional discounts for large quantity/bulk orders?
Yes, please contact us for a quote on orders of 10 or more of the same stamp and impression.
What file types do you accept?
We accept all of the most commonly used file types: gif, jpg, png, bmp, pdf, ai, and eps. If you have a different file type you wish to use, simply e-mail us at sales@getsetstamps.co.uk with your artwork and details of the stamp required and we will send you a proof of your finished design.
What if my artwork is low quality or doesn't meet the minimum requirements?
Don't worry. Send us an e-mail to sales@getsetstamps.co.uk with your artwork and we'll take a look at it. Depending on the design we may still be able to use it, in some instances we may even be able to redesign your artwork in a usable format to match your original.
What colours can I have my stamp?
All of our custom self-inking and pre-inked stamps come in a choice of 5 ink colours: black, blue, red, green or violet.
Can I replace the rubber text on my stamp?
In most cases, the text can be replaced on custom self-inking stamps. E-mail us at sales@getsetstamps.co.uk with the text you require along with the stamp it needs to fit and we will make your replacement textplate.
How do I replace the ink pads on my self-inking?

Click here to watch COLOP's tutorial.
How do I re-ink my pre-inked stamp?

Click here to watch COLOP's tutorial.
How do I create a custom ImageCard for my new COLOP Printer?
Go to the COLOP ImageCard Designer to customise your ImageCard.


Click here to watch COLOP's tutorial.
How do I change the ImageCard on my self-inking stamp?

Click here to watch COLOP's tutorial.
What is the minimum order quantity?
We don't have minimum order quantities on any of our products – we specialise in one-offs, so you don't need to waste money ordering more than you need.
The date on my date stamp isn't printing properly, how do I fix it?

Click here to watch COLOP's tutorial.