Posted on 5th March 2019 by Get Set Stamps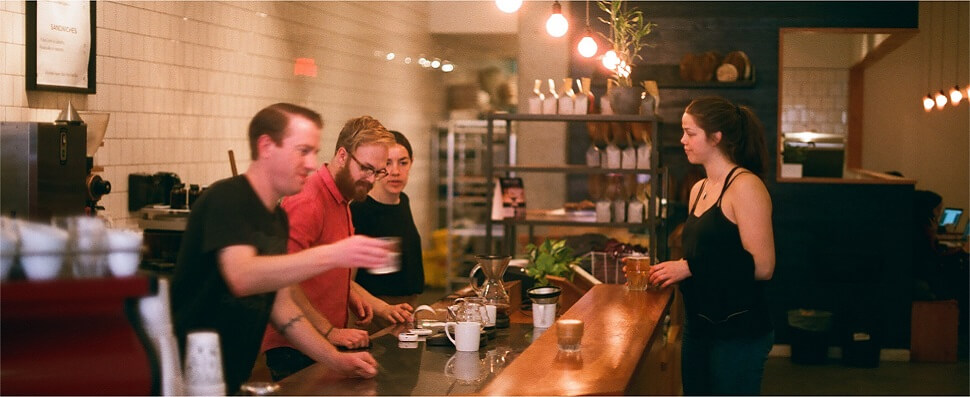 Do you know that it is much easier and more cost efficient for your business to sell to a returning client than to locate a new one? According to marketing metrics, a small business is 50% more likely to sell to existing clients than to new ones, and trying to market to new clients is almost 7 times costlier compared to maintaining existing clients.
What this means for your business is that as much as you would like to continue attracting new customers to your business, the success of your business is likely to be determined by your ability to enhance your repeat clients. On average, loyal customers tend to be worth ten times as much as their initial purchase.
So how do you go about converting new clients to become repeat customers? The following are techniques you can try implementing in your business.
Brand Everything
Branding everything is an ideal way to add to customer experience as well as create a new set of repeat customers. In essence, you to come up with a consistent message as well as the overall feel of what it is like to do business with your company.
The following are ways you can create a better brand experience that helps generate repeat clients:
Use a custom rubber stamp to brand paper bags, cup sleeves and paperwork.
Ensure all stationery and documents feature your logo and business message.
Make use of features such as Facebook cover photos to inform potential clients about upcoming freebies and events.
Make sure that all your social media pages have a consistent theme.
Confirm that the official e-mail account has an e-mail signature that is consistent with that of the business brand. In fact, you should try and add the business logo to it.
These are just but examples of how you can use branding to provide a good customer experience. The one thing you need to do is make certain that clients are regularly being hit with important reminders of what your business does and how it can help them achieve their objectives.
Provide Great Customer Service
A recent Sales Force study shows that 81% of clients are more likely to provide repeat business to companies that have offered them good service in the past. Great customer service is always a good way for you to try and turn new clients into repeat ones. Your teams should try to make sure that clients are being provided with the best customer service possible.
You may have the best products and affordable prices in your area, but if the customers feel that good service is lacking, you are likely to experience a very hard time trying to convince them to become repeat customers. Remember that good customer service involves everyone in the business working together, and not just the cashiers or your customer care department.
Start a Customer Loyalty Program
Loyalty cards are a great way to reward customer loyalty. By rewarding their loyalty, you are encouraging them to keep coming back.
A loyalty program will normally focus on strengthening the bond that a business has with its clients. Compared to one-time coupons, handing out a loyalty card where customers collect loyalty stamps in return for a reward will help inspire many future visits. In addition, if the program has been properly structured, the repeat clients are likely to start spreading the word to their friends and colleagues.
This in return helps you get more customers, who with time are likely to become repeat clients as well. You should also note that loyal customers will in many cases end up spending more money on their repeat visits. There is also a likelihood that they may end up increasing their visits to your business in between the first and last visits.
Start an E-mail List
Perhaps a certain client loved your business, but given that they have only been there once, you may not necessarily be at the top of their minds. Help new clients to remember your business. You can invite them to join the business emailing list. Try and offer this in your business, on your social media channels, and on your website. You should try and simplify the sign-up process for your clients. Having obtained their e-mail address, you can stay in touch by sending them periodic marketing e-mails. Share tips, announce new products and services, invite them to upcoming business events, and even remind them of the business loyalty program. You can also try and throw in a good deal occasionally.
E-mail lists have become vital to today's small business owners. They are a perfect tool for businesses trying to turn new clients into return ones.
Follow Up with All Your Clients
You can also create return customers by following up with customers who have engaged with your business. The e-mail list created above will come in handy in making this particular step work for your business.
It is very easy to make a follow-up. Compose a short e-mail that seeks to thank the client for their business. Ensure that the e-mail is sent in the next forty-eight hours after the client has shopped with you. And given that this is a follow-up e-mail, you should not try to sell them anything new. Keep in mind that the purpose of drafting this e-mail is to thank the client for their business. This is an essential gesture that lets the customers understand that your business cares about them and is not all about making a profit.
The Takeaway
As a business owner, it is important to understand that the business's most important assets will always remain to be its clients. It does not matter whether they are first-time clients or repeat customers, you must make sure that they are all treated with the same care and respect.
Try to be a good listener and ensure that the customers are provided with everything they need while on your premises or website. Do this, and you will soon be on your way to turning first-time clients into return clients.
---
Stamps to help!
Take a look at our top picks on stamps that can help encourage your customers to come back for more...
---
Can't find what you're looking for? Feel free to contact us and we'll help you find the right stamp for the job!