COLOP Classic R 2045 Antibacterial Custom Date & Time Stamp (24 Hour)
Custom self-inking time and date stamp including a 4mm adjustable date and revolvable time wheel.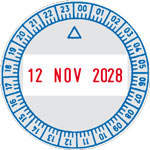 Microban antibacterial technology built into the handle to inhibit the growth of bacteria. This circular time and date stamp incorporates a 4mm adjustable date which lasts for 12 years, along with an adjustable time ring on the outer edge of the stamp.
The stamp comes as standard with a 2 colour ink pad. The date prints in red and your text prints in blue. Ink pads are easily replaced and extra pads can be bought separately. Each ink pad will give thousands of crisp, clear impressions.
Impression size: 40mm dia
Maximum number of lines: 1 line above and 2 lines below the date.
Replacement pad: E/R45/2
COLOP Classic Line stamps are made of a mixture of plastic and metal, making them lightweight but tough enough for heavy duty usage. Ideal in warehouses and workshops.
We found other products you might like!