COLOP S120/WD Word & Date Stamp
Mini self-inking word and date stamp. Features 12 commonly used words with and adjustable date.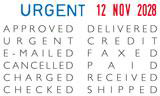 Mini dial-a-phrase date stamp. Consists of 12 4mm word or phrases along side a 4mm adjustable date. The date runs for 12 years. To select your required word, or to adjust your date simply turn the wheels until you have your required impression.. Supplied with a two colour pad as standard, the words print in blue ink and the date in red.
Ink pads are easily replaced, extra pads can be bought separately. Each pad will give thousands of crisp, clear impressions.
Featured words on stamp: APPROVED, URGENT, E-MAILED, CANCELLED, CHARGED, CHECKED, DELIVERED, CREDIT, FAXED, PAID, RECEIVED, SHIPPED
Ink pad: E/12/2
COLOP Printer Dial-a-Phrase Date stamps are made from lightweight strong plastic, making them comfortable to use but strong enough to withstand regular use
We found other products you might like!