COLOP Printer S 260 DIY Date Stamp Set
Create your own custom dater. Kit contains a COLOP S260 date stamp, tray of characters and a pair of tweezers.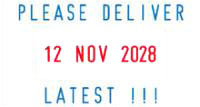 DIY date stamp kit. Create your own stamp with the flexibility of changing your text as often as you want. Incorporates your own text with a 4mm adjustable date in the middle which will last for 12 years.
Supplied with a 2 colour ink pad as standard, the date prints in red and your text ink blue. Ink pads are easily replaced and can be bought separately. Each ink pad will give thousands of crisp and clear impression
Kit contains: COLOP S 260 self-inking date stamp, 2 colour ink pad, 1 tray of 4mm characters, tweezers.
Impression size: 45x24mm
Maximum number of lines: 1 above and 1 below the date
Maximum letters per line: 16
Replacement ink pads: E/200/2
The COLOP self-inking DIY stamps are made from lightweight robust plastic which makes them comfortable to use, but sturdy enough to endure regular use.
TUTORIALS
Click the links below to see how to get the most out of your stamp.
We found other products you might like!