Trodat Professional 5440/L Stock Text Date Stamp
Self-inking date stamp combines a choice of 4 pre-set text with a 4mm adjustable date.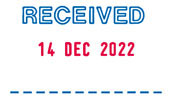 DIY Professional stamp kit. Create your own stamp with the flexibility of changing your text as often as you want.
Supplied with a 2 colour ink pad (blue & red) as standard. Ink pads are easily replaced and can be bought separately. Each ink pad will give thousands of crisp and clear impression
Kit contains: Trodat Professional 5440 stamp with interchangeable text: RECIEVED, PAID, FAXED and POSTED.
Replacement ink pads: 6/53/2
The Trodat Professional self-inking DIY stamps are made from metal and plastic, making them lightweight, but strong enough to ensure heavy usage. Ideal for warehouse and production areas.
TUTORIALS
Click the links below to see how to get the most out of your stamp.