COLOP 04000/WD Rubber Word & Date Stamp
Stamps the text and date in a day/month/year format in 4 mm characters. The year band is valid for 12 years.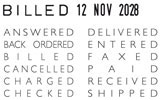 Traditional rubber dial-a-phrase date stamp. Incorporates 12 stock words/phrases along side a 4mm adjustable date.
Simply twist the dial on the side of the stamp to choose your required word and turn the wheels to select your date. Date wheels are valid for 12 years.
Impression size: 4mm
Featured words: ANSWERED, BACK ORDERED, BILLED, CANELLED, CHARGED, CHECKED, DELIVERED, ENTERED, FAXED, PAID, RECEIVED and SHIPPED
For use with a separate stamp pad.
We found other products you might like!